A New Era is here..
October 1, 2008 – A Day that changed my Life for ever. At that time I just recently graduated high school in May, I have been capturing high school sports for the past 5 years at Twinsburg High School and surrounding schools, I thought to myself hey I'm pretty decent at this, I was doing what I loved, I was attending concerts and having a great time, doing what I loved.. Two weeks before that, I took a chance I called Cedar Point Amusement Park and was like "Hey Y'all, I'd love to come photograph Pointfest", at the time Pointfest was brand new and was about to have it's first festival.
I met this really nice person named Richard Young. At the time with the festival being new, he didn't have a photographer for the festival yet. We talked and exchanged information.. I went on my way to photograph the festival, and a few days later I sent him the photos and was like "hope you like them, Thank you for the amazing opportunity!"
Next thing I know I got a call from Richard a few days later, he loved the photos. He invited me back the next year to shoot Pointfest again, and that's truly where my life changed.. That's where I met a little band named Skillet, They blew my mind the first time I photographed them, I was like "oh my goodness, good lord who is this band!"
After the show I ran into  John Cooper (At the time, very young and clean shaven and about 20 pounds less of muscle) and his lovely wife Korey Cooper. I showed them one of my pictures that I took that night. That is where everything changed for me… My life flipped upside down – Next thing I know my social media channels were blowing up(They shared a few of my photos), I started getting featured in articles and having my work shared (I was like HOLY MOLLY, to the point of being very overwhelmed at times).
I went on to photographing way more Skillet Shows, Getting to know the, the road crew, and Zach and the great team at Q management. At this point in my life, It was really taking off I got brought on to the Premier Festivals Team to work for Richard at all of his music festivals including in Charlotte, Richmond, Toronto, Cincinnati, Myrtle Beach, and of course Pointfest. Traveling hundreds of miles capturing so many amazing memories and spreading my wings. I've had the privilege of seeing and photographing so many amazing artists with so many of them becoming such great friends over the year.
Fast forward to 9 years, 6 months later.. Here we are.. I can't believe I've been doing this for almost 10 years and been so honored to traveling all over this amazing planet to capture these amazing moments. I've grown a ton in the 9 years and 6 months, I've gone out of my normal realm of Christian Music and photographed everyone I've ever wanted too in every type of Genre including Rock, Pop, Hip Hop, Country, and seeing and capturing memories with so many legends in the music industry. I've become the House Photographer for one of the best Arenas in the industry Quicken Loans Arena here in Cleveland, I can't thank Carrie, Hallie and Christina enough for the amazing opportunity.
I've branched out and expanded with Event Marketing, Communications, Website Design, Video Production, and many more. Offering my services with venues like the Wolstein Center at Cleveland State University, and music festivals like The Country Fest, EST Fest, WGAR Country Jam, Rock The Park(RIP), and so many others over the years.
Today – On Easter Sunday, I'm happy to announce a brand new era for JimmyD Photos – I have launched a brand new website, brand new logo, oh and.. something a little exciting for you all.. for the next 6 months.. I'm giving away HUGE giveaways including Autographed Photographs, Special Memorabilia, Tickets to concerts and events, and way more!
make sure to follow my Facebook Page, Twitter, and Instagram for those!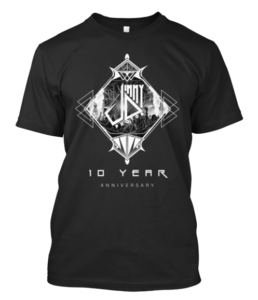 On top of that, I've been working the past month with an amazingly talented Artist named Stephanie Larson(Who I met at Pointfest), I'm introducing a very special limited edition 10 Year Anniversary T-Shirt that can be purchased here: Click Here
This is the first time I've offered official shirts and excited and eager to see how they go!
Thank you so much for all the support over the past ten years and here is to another 10 years!
Jimmy Davis